CASTLE COURTYARD

Experience the majesty of the courtyard at Athlone Castle and enjoy its panoramic views of Athlone.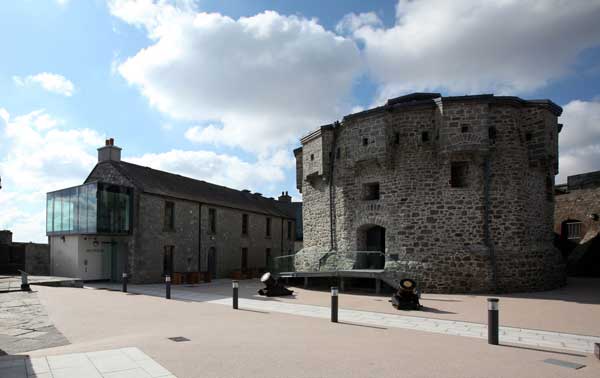 There is so much to see and do whilst enjoying a visit to Athlone Castle.
The courtyard of Athlone Castle has seen countless changes occur in the last 810 years. The stone Keep which now occupies a central position in the courtyard still retains part of the original 13th century structure.
Today, the courtyard acts; as a meeting place, a picnic spot, a viewing point over the majestic River Shannon, an area in which to unwind and savour the atmosphere of what once was a marvel of architecture.
Explore the courtyard and you'll find areas relatively untouched throughout its history. Take the time to visit the upper battlements and soak in the unrivalled views over the town of Athlone and the River Shannon.
From here you will see why this place was chosen as the site for a medieval stronghold. Learn about the history of Athlone's historic past.
Below the battlement level, learn and play by becoming a chess master at our outdoor 3-D chess area. Get locked up in our Medieval stocks. Enjoy a picnic whilst admiring the majestic stone Keep. Picture yourself as a Jacobite gunner in charge of our two cannons.
Admire the strong defensive walls that surround the castle courtyard that were built and strengthened during the Napoleonic Era. From a new vantage point, feel yourself standing in charge as you gaze upon the landscape below, where the ancient ford used to be, and the pop of bright colour of Athlone's historic quarters.
Events

The courtyard of Athlone Castle has also played host to many outdoor activities and events such as the iconic Medieval Fair, talks and exhibitions, poetry and musical recitals. There is always something going on in the courtyard of Athlone Castle.