IRELANDS HIDDEN HEARTLANDS

Discover a captivating landscape full of endless possibilities in Ireland's Hidden Heartlands.

A short journey from home, that's a world away all the same, it's time to slow right down to the flowing waters' soothing pace of Ireland's Hidden Heartlands. Stretching across nine counties, the rich, rural landscapes of this captivating part of Ireland are equal parts rugged and beautiful – and are absolutely flourishing with wildlife.
Explore the green heartlands of Ireland's natural beauty, where activity and relaxation are centred around rural communities. The Hidden Heartlands lifestyle can be discovered across a lattice work of land and water trails, showcased by the iconic River Shannon and the Beara Breifne Way.
On a peninsula jutting out into Lough Ree in County Roscommon lies the magnificent medieval town of Rindoon. Built in the early 13th century, this town is a remarkable preservation of our past like nowhere else in Ireland.
The Rinn Dúin Castle loop walk leads you through a Norman town that was deserted centuries ago. The abandoned town wall, towers, gatehouse, windmill, parish church and hospital all still remain, ready for you to explore. This 3km looped walk takes roughly an hour and it begins and ends at St. John's House in Lecarrow, County Roscommon.
There's an infinite variety of things to do for all ages along the length of the Shannon, by the many beautiful lakes in the area or along the many quiet rural byways that criss-cross this picturesque part of Ireland.
The water offers leisurely boat trips, water sports and great fishing, while numerous walks, cycle trails and pony trekking trails allow you to take in the views or explore the rural heartlands and small villages in this quiet, relaxing part of the country.
Carrickcraft, Emerald Star and Silverline Cruisers all have wide a range of rental options from 2-10 berths. They know the area like the back of their hand and are happy to great tips on things to do, from a leisurely cruise to Banagher to a tour of Athlone and Hodson Bay.
Stay every night in a town such as Athlone or village or escape to the wilderness on remote jetties where you can cook and eat on board in the well-equipped onboard kitchen.
You don't have to travel very far in Ireland for truly breath – taking sights and scenery, secret places full of life and bustling with charm.
The number of heritage and cultural sites dotted around Athlone as well as the beauty of its waterways keep visitors coming back to this historic town.
Did you know that when you are in Athlone, you are at the centre of Ireland, the very heart of the island? Athlone, yours to uncover.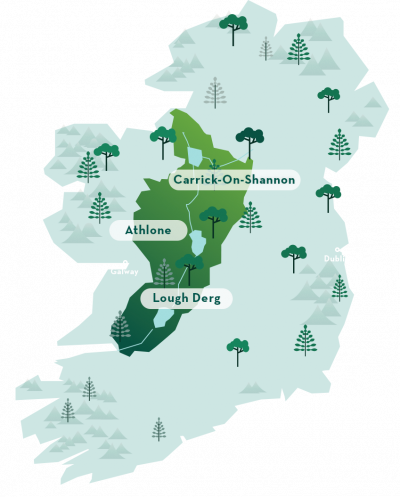 Whatever your preferences, the River Shannon in Ireland's Hidden Heartlands is filled with breath-taking vistas and enriching experiences that will leave you intrigued, relaxed and looking forward to your next trip back