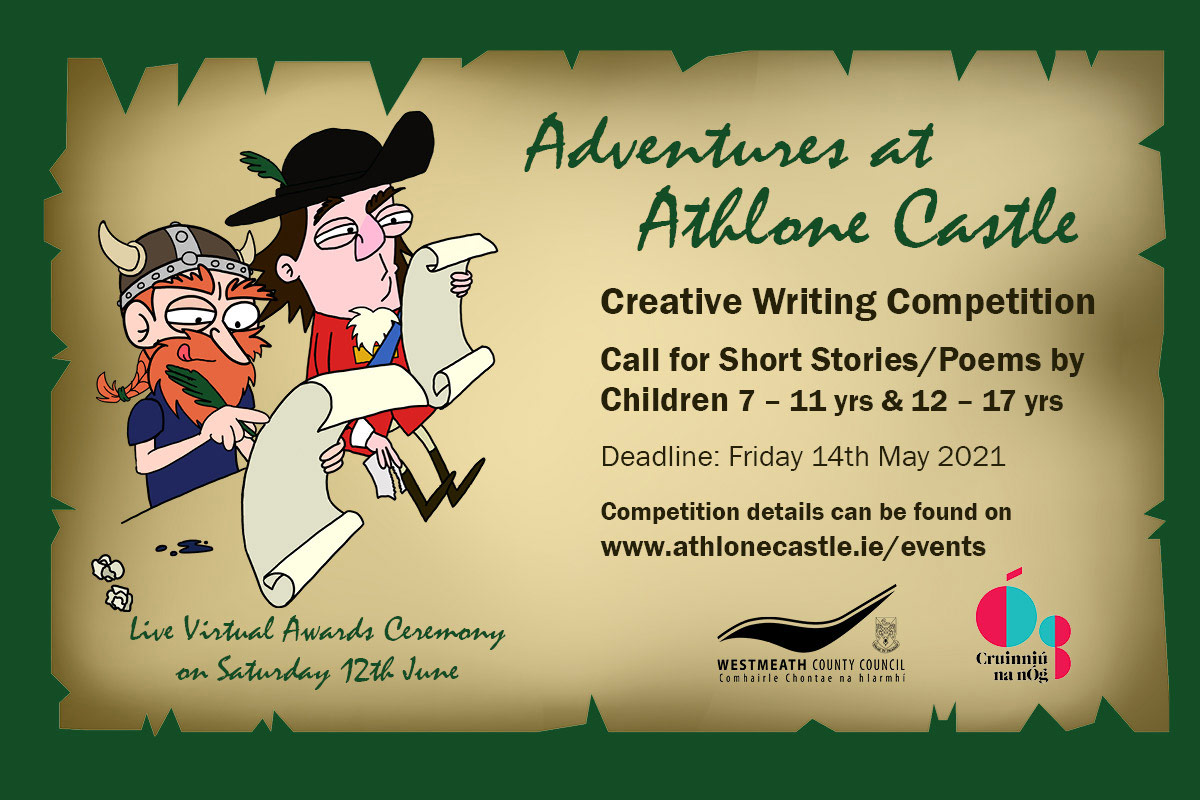 Creative Writing Competition for Children
94
94 people viewed this event.
Call for Short Stories/Poems by Children
Age group: 7-11 and 12-17
Starting Date: Monday 19th April
Closing Date: Friday 14th of May
T&C apply
Description:
Meet Olaf the Viking and Hugh the Williamite Solider- Athlone Castle's resident troublemakers. These two friends are always getting into mischief and playing tricks on each other.
This year, for Cruinniú na nÓg, they are asking you to join in their fun and help tell the world of their Adventures at Athlone Castle!
Hugh and Olaf's pictures will help you write a story or a poem about some of their shenanigans.
You will find out more about them here.
All the winning stories will be published in a book called 'Olaf and Hugh's Adventures at Athlone Castle' and the authors will receive special prizes. Up for grabs will be a selection of Rory's Story Cubes, a dice game that inspires creative storytelling and endless hours of imaginative fun. There will also be Eason's vouchers for every winner and a chance to read your story or poem during the official Award ceremony on Saturday 12th June
This creative writing competition is supported by Creative Ireland and Westmeath County Council.
Not sure where to start? Check out our Children's Creative Writing workshop with writer Keith Payne
Our troublemakers even have to play by the rules, there are a few things you need to know about this competition:
Terms and Conditions:
The creative writing competition is open to children from Athlone, neighboring localities, and Westmeath in two age groups 7-11 and 12–17-year-olds.
Children participating in our Creative Writing competition will be able to submit their entries by email. The Athlone Castle team will form a panel comprised of staff from the castle as well as Keith Payne, the current John Broderick's Writer in Residence and Caroline Coyle of Poetry in the Park to select the winners.
The highlight of our Cruinniú na nÓg event will be the live streaming of a virtual ceremony during which the winners will be announced, and the 'Olaf and Hugh's Adventures at Athlone Castle' publication will be officially launched online by the John Broderick's Writer in Residence, Keith Payne and Caroline Coyle, Poetry in the Park. All the finalists will be invited to read their works during the opening.
Permissions will be sought in advance from the parents/guardians of all the children to facilitate their attendance at the virtual ceremony. parents/guardians will be informed in advance if their children's pieces have been awarded a prize and will be featured in the publication. They will be asked if the child would like to read their work during this ceremony. If this is not possible then either Keith Payne or Caroline Coyle of Poetry in the Park or even a member of the castle team will do so on their behalf.
Competition Entry Criteria:
Each piece must be no longer than 500 words.
All submissions to be sent in via email to

[email protected]

All entries must include the title of the story/poem, name, and age of the author.
All entries must include the name and telephone of a parent/guardian.
All entries must be original and entirely the child's work.
All entries must be in English.
All entries must be submitted before or on Friday 14th May.
No late submissions will be accepted.
Only one entry may be submitted per child.
The winners of each competition will be announced on Saturday 12th of June and will receive a prize.