Heritage Week events at Athlone Castle – Living Heritage is this year's theme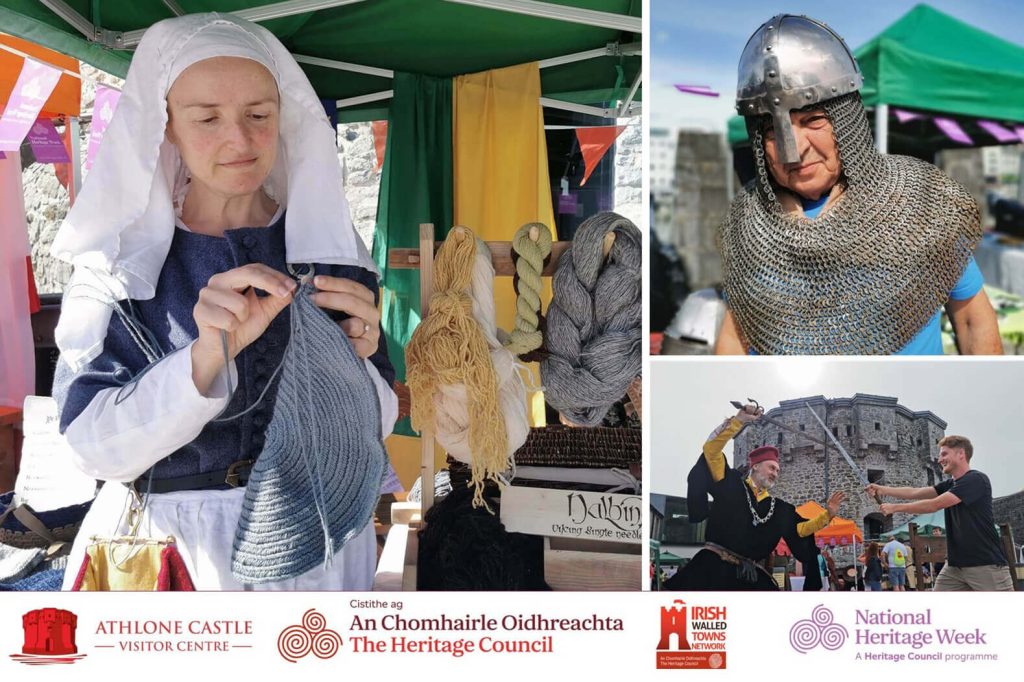 This year's theme invites you to explore the traditions and practices, knowledge and skills passed down through generations.
Athlone Castle Visitor Centre will once again deliver an exciting and engaging programme of events during National Heritage Week 2023 in collaboration with a broad selection of specialist heritage experts, facilitators, artisans and historians and supported by the Heritage Council under the Irish Walled Towns Network 2023 Interpretation Fund.
"Where Past Meets Present- Stories from Athlone Castle" will feature a temporary oral history exhibition focused on the lives and stories of the Irish military families who lived within the castle walls, as well as a week of talks, guided tours, onsite demonstrations and workshops culminating in an evening of poetry, prose and music. In keeping with the theme of intangible heritage for this year's Heritage Week, our programme will appeal to all ages, interests, and ethnicities.
'STORIES FROM ATHLONE CASTLE' is a temporary exhibition centred around the stories of former residents of Athlone Castle, which will run from Saturday 12th August to Sunday 20th August 2023. This exhibition will combine audio recordings of stories told by members of the community with a selection of family photographs and other memorabilia from the families and individuals who lived within the castle walls before it became a Visitor Centre. As part of this exhibition, visitors will be able to listen to audio recordings of literary and historical texts including Aubrey de Vere's 'Ballad of Athlone' and a re-enactment of the speech given by General Seán MacEoin during the takeover of Athlone's Army Barracks in 1922. Excerpts of this exhibition will be accessible from Athlone Castle's website and an exhibition booklet will be published. This temporary exhibition will be officially opened by Athlone historian Gearoid O'Brien on Monday 14th August at 4.30pm. This is a free event, and all are welcome to attend.
The popular 'WALK THE WALLS' tour will take place on Sunday 14th August at 12.00pm. Athlone Castle volunteer and Army veteran Henry Brady will bring visitors on a guided tour of the exterior defensive structures of Athlone Castle. Henry will bring the history of the Castle to life with daring tales and interesting anecdotes alike, as he leads visitors around the outer areas of the Castle. Please be aware that this event is outdoors so dress accordingly. It will also involve plenty of movement, which may not be suitable for those with mobility issues. This is a free event, but places are limited, and pre-booking is essential.
GUIDED TOURS OF THE CASTLE will take place at 3.30pm on Saturday 12th, Tuesday 15th, Friday 18th, and Saturday 19th of August. The knowledgeable Athlone Castle guides will lead you on an engaging journey through the history of Athlone Castle and the town, from the times of the first settlement in Athlone right up until the present day, highlighting tales of battles and bloodlust, destruction, and new beginnings. Visitors will have a chance to engage with our interactive displays and replica weapons and try on period costumes. This guided tour is bookable in advance and is included with regular admission fee.
Members of the Society for Creative Anachronism will return to Athlone Castle for 'STORM THE CASTLE' a free admission day on Wednesday 16th August from 10.30am to 5.00pm. The Society will re-create a medieval town market with onsite demonstrations incorporating a variety of the traditional skills and crafts of our past, such as herbology, cooking, Viking nalbinding, embroidery etc. Westcountry Willows will be onsite demonstrating traditional basket weaving techniques, and Green Woodwork Ireland will showcase the craftsmanship of pole lathe turning. A selection of period costumes will be available for visitors to try on throughout the day, and a selection of traditional games will also be available for everyone to enjoy.
'SHANNON COUNTRY: SEARCHING FOR RICHARD HAYWARD' is a captivating talk by journalist and author Paul Clements on Thursday 17th August at 5.00pm. In 2018, Paul went on a journey along the River Shannon following in the footsteps of the actor, writer and singer Richard Hayward who explored the river in 1939 for a book and film, 'Where the River Shannon Flows', which was popular in cinemas throughout Ireland in 1940. Booking in advance is required for this free event as places are limited.
Athlone Castle's final event of Heritage Week 2023 is 'POETRY AT THE CASTLE' on Sunday 20th August at 4.30pm. Join the Poetry in the Park group for an afternoon of poetry and prose. Local poets and artists will showcase their works in the intimate setting of the Athlone Castle Courtyard. This is a free event, and all are welcome to attend.
All the Heritage Week events at Athlone Castle are supported by the Heritage Council under the Irish Walled Towns Network 2023 Interpretation Fund. For further details on booking any of these events, visit www.athlonecastle.ie/events or please contact Athlone Castle by email at [email protected] or by telephone on 090 6442130.