Athlone Castle's virtual Easter Extravaganza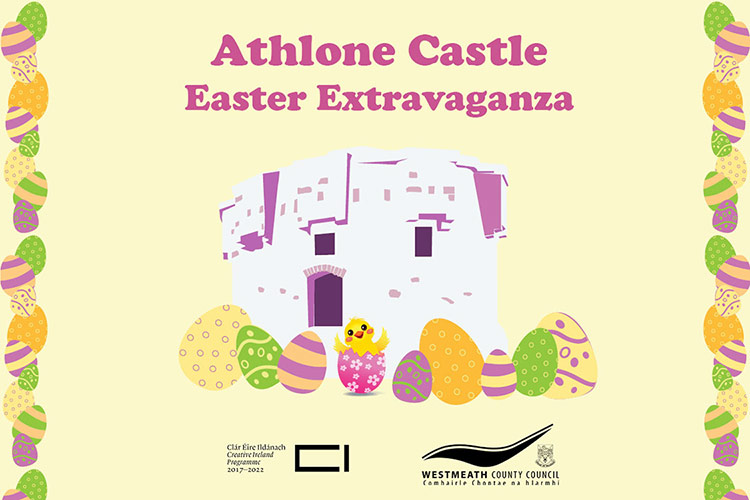 Athlone Castle Visitor Centre will once again go virtual for an Easter Extravaganza. In line with current Government restrictions, Athlone Castle will present several online activities and events that will be shared on social channels over Easter weekend from Sat 3rd.
Rosemarie Langtry, a well-respected Westmeath based contemporary visual artist will facilitate an arts and craft tutorial based on the symbolism of the Easter Tree. Inspired by the museum's collection, Rosemarie will demonstrate to children how to create an Easter tree in the comfort of their own home. A tradition dating back centuries, an Easter Tree was usually decorated with coloured eggs. This art and craft tutorial will make designing your own tree a little easier. This tutorial will premiere on Saturday morning, 3rd of April.
On Easter Sunday 4th April, Eoghan Burke also known as Fia Rua will present a storytelling spectacular with the history of Athlone Castle acting as the backdrop to his incredible and unique craft. Eoghan is a stage and screen actor and a talented musician and storyteller and will custom create an Easter themed story. His story will bring the Easter Bunny to Athlone during the Great Siege of 1691 and follow his adventures during one of the bloodiest times in Athlone's history.
Both events will be followed by competitions whereby children will be invited to submit their works to win a prize. The competition based on Eoghan's storytelling will be art based. Children will be asked to submit an illustration or drawing based on the story that Eoghan will create. Following Rosemarie's crafts tutorial, participants will be asked to share a photograph of their finished Easter Tree with us.
The winners of each competition will be announced on Thursday 15th of April and will receive a prize. Their masterpieces will also be featured as an Athlone Castle news items on both our website and social media channels and in press releases issued to local media for everyone to admire. We intend for the event to be inclusive and are inviting children from Athlone, neighbouring Midlands counties and further away to participate in the arts and crafts competitions.
Athlone Castle's Easter Extravaganza is free of charge.
Athlone Castle Easter Extravaganza is supported by Westmeath County Council and Creative Ireland
For further details please visit www.athlonecastle.ie/events