Athlone Castle Excited for Heritage Week 2021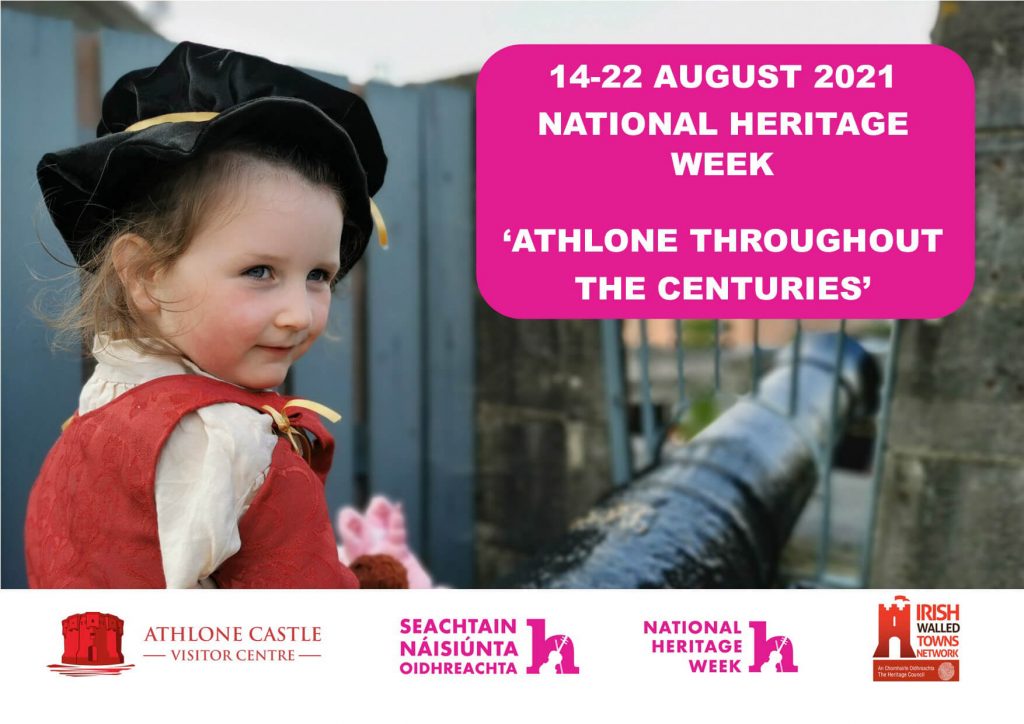 Athlone Castle Visitor Centre is delighted to celebrate this year's "Open the Door to Heritage" theme for Heritage Week 2021. National Heritage Week runs from Saturday 14th to Sunday 22nd August, and Athlone Castle will present a programme of events, showcasing 'Athlone Throughout the Centuries', catered to suit all interests and ages!
Athlone Castle will deliver a diverse programme of engaging and educational events and activities focusing on learning from our heritage across the centuries supported by The Heritage Council under the Irish Walled Towns Network 2021 Interpretation Fund. In line with national safety guidelines, the programme will feature a combination of live-streamed onsite demonstrations and pre-recorded virtual talks, workshops and activities highlighting the history and heritage of Athlone. The events will span key periods in the historic walled town and castle's history giving audiences the opportunity to view the castle, historic walled town and neighbouring sites, "Throughout the Centuries".
The demonstrations and workshops will provide an opportunity for the Athlone Castle team and heritage professionals and historians to showcase Ireland's rich history. Events include a sneak peek video series of the castle museum objects and artefacts, Viking and Medieval themed arts and crafts videos where people of all ages can make their own Viking ship or a 2D Collage of Athlone Castle. There will be demonstrations live streamed to everyone at home on bow making, the material culture of the revolutionary period in Ireland, wool spinning and even cooking from the Medieval era.
Athlone Castle will also host the "Three Royal Castles – Athlone, Rindoon and Roscommon" virtual talky on Zoom. Senior Lecturer in the Department of Archaeology, School of Geography, Archaeology and Irish Studies, NUI Galway, Dr Kieran O' Conor will deliver an enlightening talk on the history of the three royal castles of the Midlands.
Pre-booking is advised for the virtual talk, as places will be limited. Online events will be broadcast on our social media channels. A full schedule of events with further details, times, and booking information is available to view on Athlone Castle's website: www.athlonecastle.ie/events
Queries and requests for further information should be addressed to Athlone Castle on 090 6442130 or [email protected]